Introduction et présentation
Marojejy.com a tout d'abord été créé bénévolement comme outil de promotion du parc national de Marojejy, ensuite de la réserve spéciale d'Anjanaharibe-Sud et d'Andapa puis d'autres petits projets locaux basés sur le tourisme. Par la suite, avec l'afflux de demandes d'informations, de réservations, notre rôle a évolué. Tout en continuant à promouvoir ces magnifiques aires protégées sans en cacher les problèmes et les dérives, nous avons décidé de nous consacrer un peu plus à ceux qui, comme vous, désirent venir à Madagascar pour découvrir notre splendide région.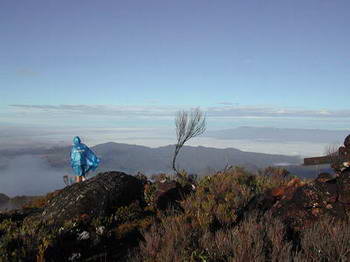 Par la connaissance de l'intégralité des guides, porteurs, cuisiniers dévolus à ces réserves, par la connaissance du terrain, des moeurs, des habitants, par le respect immense que leur vie nous inspire tant elle est parfois difficile derrière leurs beaux et larges sourires, par l'amour de ces sites exceptionnels, de la forêt, de la nature tout entière nous proposant à tour de bras des endroits extraordinaires, peu connus, encore discrêts, encore enveloppés de leurs mystères, de leurs difficultés d'approche, de cette forme d'ingratitude qu'ont les splendeurs naturelles à se dévoiler aux yeux des néophites...
Sans être une réelle agence de voyages, notre expérience nous permet de vous garantir des prestations sans faille et une réception dans un cadre plus 'familial' que bien des services proposés ailleurs. Notre travail est avant tout une passion.
Des terres éloignées et difficilement accessibles de la réserve spéciale d'Anjanaharibe-Sud, aux pentes escarpées du Marojejy en passant par les blondes plages de la péninsule de Masoala, les berges de la Lokoho, la richesse incomparable du parc national Masoala et la petite princesse des îles, Nosy Mangabe, nous vous emmènerons où vous voudrez et si vous ne savez pas vraiment, demandez nous et nous nous ferons un plaisir de vous établir un voyage sur mesure.
Ainsi nous vous invitons à consulter ces quelques pages, n'hésitez pas à nous contacter pour de plus amples informations :
info@marojejy.com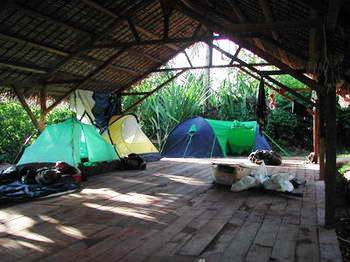 RETOUR EN HAUT DE LA PAGE
Introduction and Purpose
Marojejy.com initially started life as a simple volunteer project to promote Marojejy National Park. Later, we added information on Anjanaharibe-Sud Special Reserve and Andapa and worked on a number of other small local tourism projects. But as we have received more and more requests for reservations and for information on visiting the area, our role has evolved. Of course, we continue to support these magnificent areas (even if it means exposing some of their problems), but we are now also offering our services to those of you who would like more help with trip planning and logistics.
Over the years, we have come to know and love this area of northeastern Madagascar – this remote, wild and mysterious land. We have travelled the roads, hiked the trails, and stayed in the villages. We know the guides, the porters and the cooks who work in the area. We have an enormous respect for the local people, and are inspired by their extraordinary lives – lives that, although often difficult, are always graced by large and kind smiles.
While we are not an actual travel agency, our experience allows us to provide you with hassle-free trips and a warm welcome in a more "family-oriented" setting than you will get elsewhere. For us, this is more than anything a work of love.
From the remote and wild rainforests of Anjanaharibe-Sud to the rugged mountains of Marojejy and the quietness of the Lokoho river, from the white sand beaches of the Masoala Peninsula to the incredible wealth of life in Masoala National Park and the jewel-like island of Nosy Mangabe – we can take you where you want to go. And if you're not really sure what you'd like to do, please ask us for ideas. We'd be more than happy to help arrange the trip of a lifetime.
We invite you to browse our webpages. If you have any questions or would like more information, please contact us at:
info@marojejy.com